PROFESSORS
ELLIE ABRONS,
MEREDITH MILLER
STUDIO SECTION
IN THE MIDDLE: HYBRID TYPES FOR NEW HOMES
Construction of low- to middle-income housing is far from keeping pace with demand. For multifamily buildings, the economics of construction, coupled with local policy and building code, directly shape what new housing can look like--often resulting in sameness regardless of context. On the other hand, the current housing problems are compounded by the dominance of the owner-occupied single-family home, which to many remains unattainable.

Recently, some urban planners, architects, and developers have begun to advocate for a housing typology that mediates between these two extremes in order to increase neighborhood density and thus, housing affordability. Called "Missing Middle Housing," this typology is emerging as a strategy for working incrementally against the strictures of zoning to create a walkable density close to urban centers.
While it holds promise, the concept of Missing Middle Housing was designed to preserve the 'traditional character' of single-family neighborhoods. Many examples are orthodox in their design and miss the opportunity to combine density and scale with innovations in construction and materials or forward-thinking ideas about lifestyle and program.

This studio experimented with alternate notions of 'middle' in order to make high-quality homes more attainable. Sited alongside the Dequidre Cut near Detroit's Eastern Market, these projects articulate ideas of hybridity, in terms of density, program, and ways of living.
ELLIE ABRONS + MEREDITH MILLER
CRAIG BORUM + CLAUDIA WIGGER
LARS GRÄBNER + CHRISTINA HANSEN

KIT MCCULLOUGH + MICK KENNEDY
STUDENT WORK
ZOË FAYLOR, ROSA MANZO, ANNE REDMOND
WAP (WATER, AFFORDABILITY, PERFORMANCE)
WAP is creative live/work housing collective located in the eastern market neighborhood in Detroit. To honor and provide useful space to the expanding creative community, the proposed housing collective is composed of private residential rental and rent-to-own units and flexible shared spaces for making, exhibiting, performing, and retailing. Influenced by the massive amount of flooding that occurred in the city summer of 2021, stormwater management techniques were foregrounded when designing the collective. An extensive green roof, rooftop cistern, living facade and terraced bioswale work to reduce the volume and rate of stormwater runoff by channeling overflow into the city's main sewer line.

View from Division Street overlooking the Dequindre Cut
Site context and roof plan
Ground and third floor plans
Left: Neighborhood analysis diagrams; Top-right:, massing diagram; Bottom-right:, Circulation diagram
Circulation through the site was deliberately designed to emphasize the experiential quality of moving between natural and built elements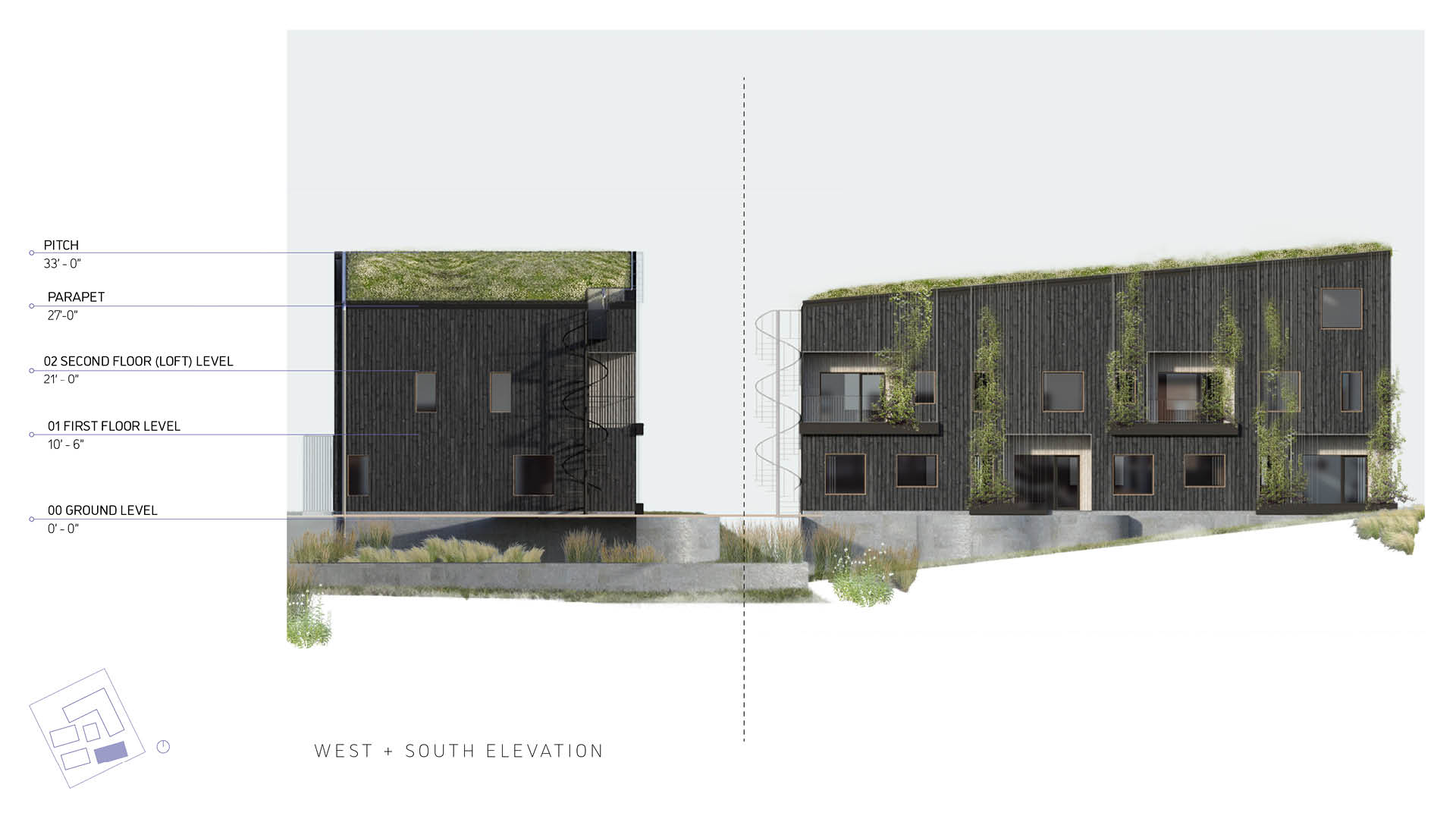 The Shou Sugi Ban cladding stands in harmonious contrast to the white brick building that houses Floyd and Anthology across the street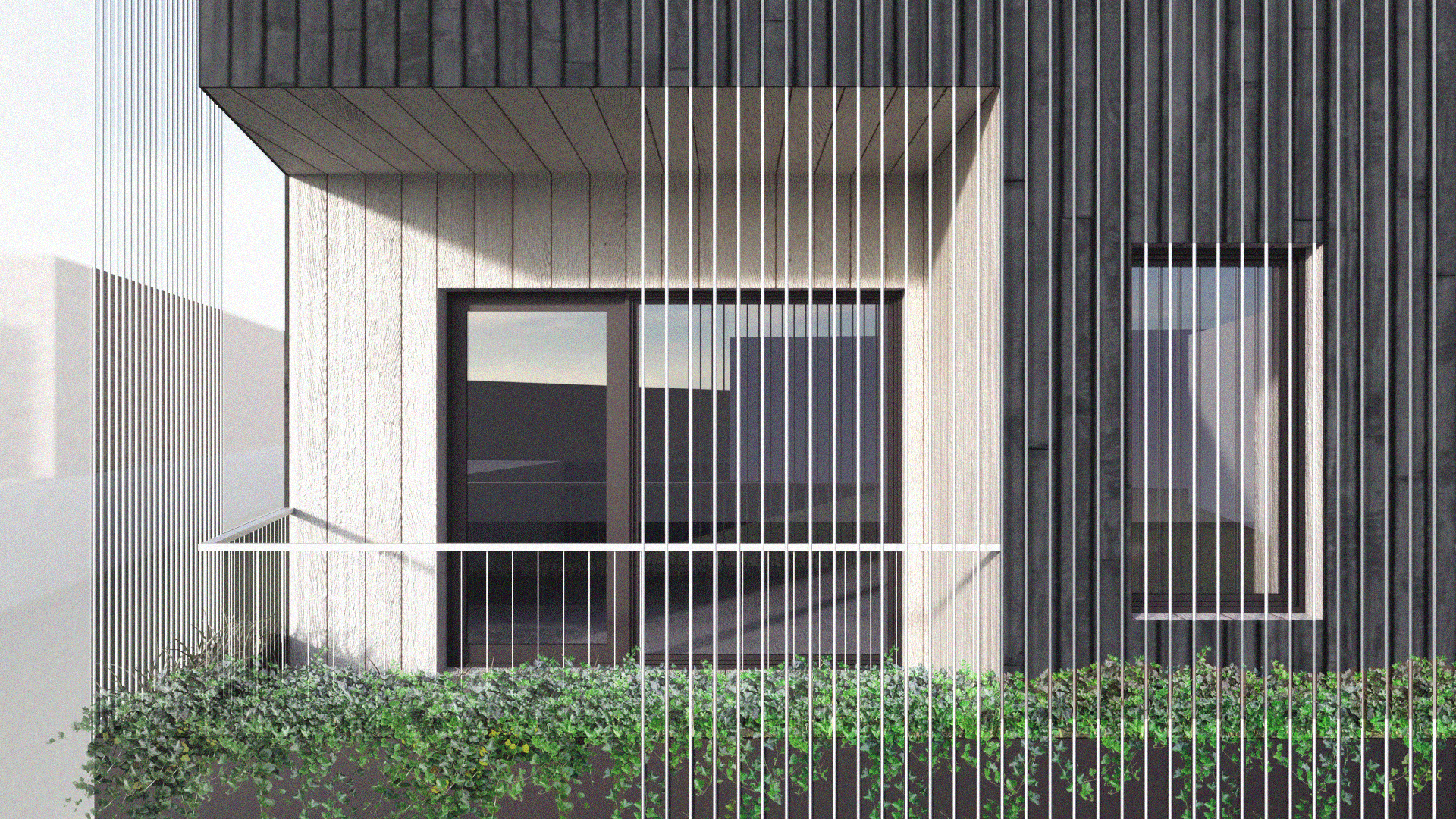 As the trellis matures and grows over time, the charred wood facade fades to a lighter grey
CLT was chosen as the structural system for its reputation as an environmentally conscious construction method with the capability for offsite fabrication and quick onsite assembly
This diagram illustrates the layering of stormwater management practices deployed on site
Cropped site section showing the terraced bioswale stormwater management system beneath the public stairs descending into the Dequindre Cut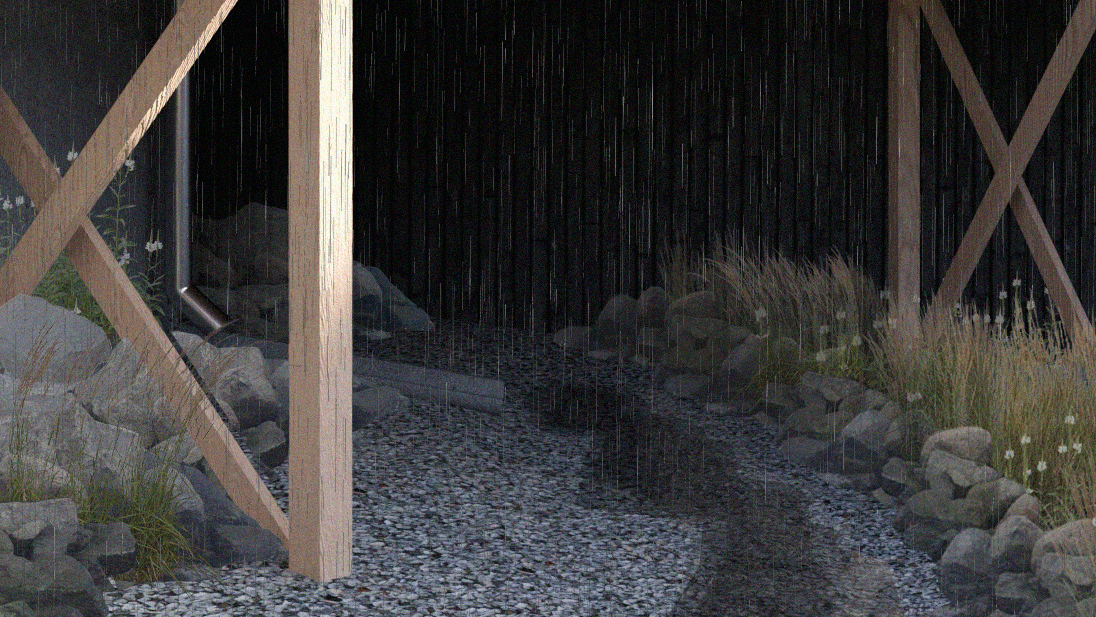 Terraced bioswales retain and slow the absorption of stormwater runoff before channeling it into the city's main sewer line
Left: residential plans; Right: creative plans
Rent-to-own unit plan perspective
Southeast Section Perspective
View from Dequindre Cut of retail and unit spaces